I have to admit, though I like some of the players on the Cubs a lot, I was kind of excited yesterday, just to see how much worse it could get. I guess the baseball gods owed them a blowout win after their suffering on Friday and Saturday, but it made me realize that I always thought I liked the Cubs, but I actually like them for the same reason you like being around a friend whose life is consistently a wreck: they make me feel better about my team. They certainly accomplished that this weekend, despite our Sunday loss and my concerns about Cormier and our fifth starter slot.
O'Brien called Cormier's effort "not Smoltzian," referring to the fact that Smoltz had originally planned on starting yesterday. That's an understatement. I didn't have very high hopes for Cormier after his injury, but I didn't have doubts of the "grand slam in the first inning" variety, either. I'm not sure what to think now, but if Jorge Sosa can win four games for the Mets, I suppose anything is possible?
I love when the AP photos capture the mood of the game and the players perfectly, and this one definitely did: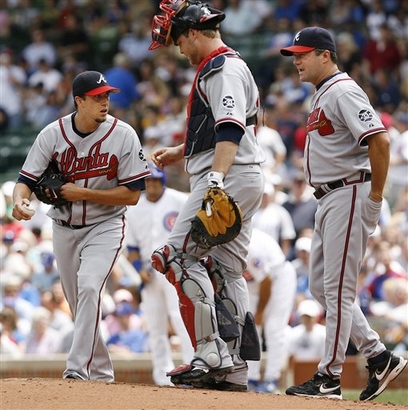 Cormier: (terrified), (thinking about running away)
Heap: (sad), (blaming himself for everything)
McDowell: (. . . sneezing?) (. . . sleepwalking?) (. . . scratching his butt?)
Okay, so maybe McDowell's expression isn't quite clear, but it still perfectly embodies his apparent reaction to everything: vague indifference. Maybe he's actually experiencing great anxiety with every pitch, but he's not exactly an emotive guy.
I'm going to the game today, and I'm pretty excited about our seats, good ones that I got for my birthday. We're all moved in to our new place (our temporary place — you'll hear the "we're moving" excuse from me again in October), so I'll be updating more regularly now. Sorry for the hiatus!