About me:
Great thing happened today. Police arrested a twenty-three year old blonde who had climbed a tree outside our clubhouse and was peeping in at us in the shower. A female beaver-shooter. –Jim Bouton
About this blog:
Velcro Vernacular is named for Jeff Francoeur's batting gloves, which have a Bible verse printed across the velcro strap: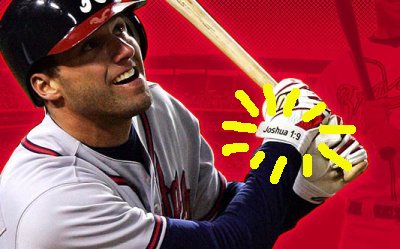 Sports marketing is a big interest of mine, especially where the marketing efforts of the franchise, the individual players and reality intersect. Eventually I hope to discuss the marketing investments and issues of my Atlanta Braves here, but until then I'll be complaining about the overuse of lefty-righty platooning and posting funny pictures.
I also write for Talking Chop on a regular basis, so check out my stuff over there, too.