Noo, Heap, don't touch Orr, he's bad luck!!!!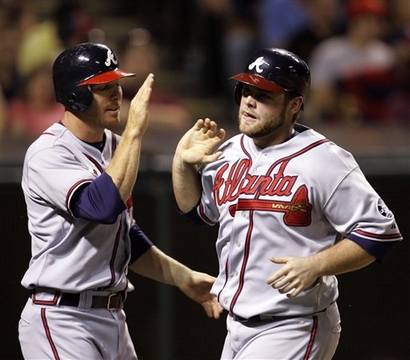 Phew . . . he stopped himself just in time.
Heap needs all the good luck he can get right now. His arch nemesis has recently taken his place in the lefty-platoon version of the batting order, where he is kicking ass, I must say, and rather endearingly so.
Salty on he and Yuney's heroics in last night's win:
"Maybe it's just being young and dumb," said Saltalamacchia, smiling widely in a postgame clubhouse that felt like something other than a morgue for the first time this week.
How can you not love him? I certainly didn't expect to, but he won me over quick. I think Thor has a lot more to worry about than Heap, but I would love to see Heap throw out a few baserunners and get his defensive mojo back (not that Salty didn't have a game where five Marlins stole on him — ouch! I was at that game, but could just imagine the broadcast cutting to suggestive shots of Heap watching from the dugout). Offensively, I think Heap will come around soon — the homer during the Loss of the Century was a good sign. And I'd rather have him behind the plate when it comes to calling games and babysitting borderline pitchers, even if a few bases get stolen in the process. Just stay away from the poisonous cloud that is Orr, Heap, and everything will work out.