That game was just fun — our pitching was brilliant, Heap was back and hitting again, and Willie is already a huge upgrade over Langerhans at the plate, and looked great in left, too. Not only was the actual game play impressive, the peripheral broadcast junk was pretty entertaining. Dave did a nice job of capturing most of it in his highlights video, in case you missed Heap happily showing off his dirty boxers, Terry ripping on Juan Pierre, and the most hilariously awkward product placement of all time, featuring Joe and a straw.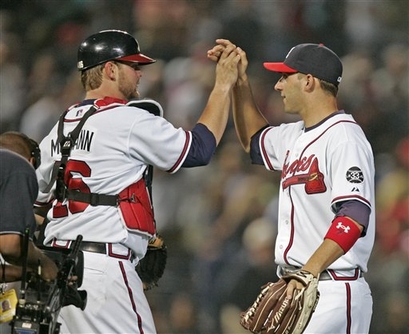 I'm on my way out the door, headed to Atlanta this morning, and I may get to go to the game tonight. If I do, I'll be sure to provide a thrilling account of the comments made by drunks in my section, batting practice, and the tool races.
The AJC has a small story in their Braves notes that assures us that Aybar is at least alive, and "with family," so that's a relief. I've been thinking about him since Josh Hancock's death; hopefully he can take something away from that tragedy and start to turn things around.