We had a great time down at spring training — next year we'll definitely do a full week and try to make it to five or six games. We went to the February 29 game against the Dodgers and the March 2 game against the Astros. The Braves won both. Hampton pitched the second game — I nearly fainted when it was announced, having expected him to remain frozen in carbonite* for at least two more weeks. He looked good! Jarr Jurgens looked less good on Friday.
I got a ton of pictures, but I'll have to size them down, and I'll try to post them on Wednesday. Here's a little preview: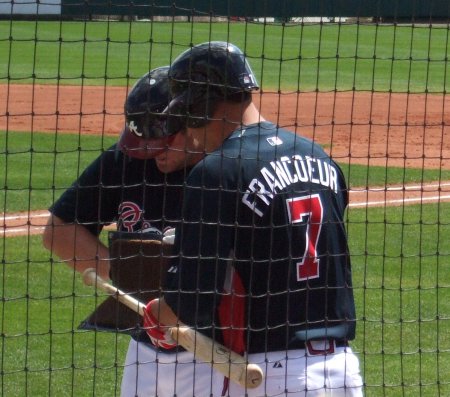 I had forgotten how happy Heap's hair makes me. After he came out of the game on Sunday, he was jogging around in the outfield with his hat off, and his hair was ridiculously fluffy and blond and just a delight. Frenchy was as impressive with the fans as ever, signing autographs and tossing a random shouter his gloves when he couldn't stop to sign. Javy was also friendly with the fans, and he hit a home run, which I missed because I had just realized Peter Gammons was standing two feet in front of me.
I'll post more about my experience along with my pictures on Wednesday, but here are a few quick observations:
–Jordan Schafer is hot as hell in person, despite photographic evidence to the contrary.
–Kotsay didn't speak a word to any of his teammates and seemed very standoffish in general. Shades of Wicky!
–At one point I saw the back of Bobby Dews' jersey and thought he was Devy. It was a bittersweet moment, because I miss Devy, but I do love Bobby Dews. He was sitting by the on deck circle on Sunday and everyone chatted him up while they waited to hit . . . except Kotsay.
–There was a moment on Sunday when the second or third batter Hampton faced hit one right back to the mound and he reached for it — the whole crowd gasped in terror. Fortunately he did not lose an arm. I think he ought to take a duck and cover approach to that situation for the rest of spring training. No one would hold it against him.
Oh, and the Frenchy contract drama has officially begun! Did anyone not see this coming? I love it, particularly this Molly woman who holds the title of "one of Francoeur's representatives." I'm guessing he has at least six, including one who exclusively handles endorsing sunglasses. And there has got to be one who is in charge of The Teeth. Someday Frenchy is going to see a picture of those veneers in profile and fire that guy.
*My husband gets credit for this joke.