We had our windows open yesterday afternoon, which was probably not a great idea, because that game had me screaming and jumping around the room. I'm surprised our neighbors didn't call the cops. And the best part, as pictured in the background here: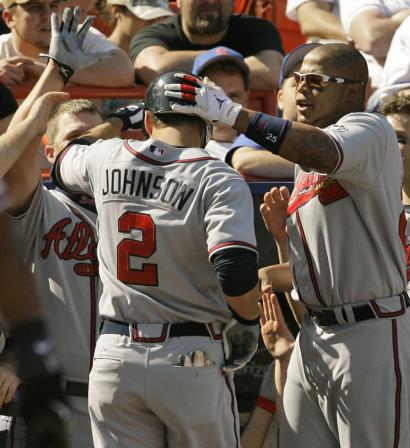 The pissed off Mets fans! Ah, whenever I hear "and the fans start streaming toward the exits" in the 8th, I always feel so proud of our guys (and glad Reitsma isn't around to reliably make it interesting). I'm so glad that they're leaving that godawful stadium with another series victory, and in first place. After the clowns tried to blind us and all, it only seems fair. And how obnoxious were their loudspeaker announcements? I tried to listen to the TBS broadcast yesterday, because I was in a Joe kind of mood (he was going off on Langerhans pretty good, even though he didn't start in left), but after Chip said Reyes was the "most exciting player in the game!" for the eighteenth time, I switched over to his dad on the radio. It was a good choice, as usual. At one point Skip said that if we had to play a four game series in Shea Stadium he would "jump out of the booth and be done with it."
There is really nothing better than being surprised by a player you don't have the highest expectations for, and I just love the hell out of Kelly right now, as I'm sure everyone does. And I've loved Rent since his Marlins days, so it's always great to see him be the hero. What a fun game . . . Bobby getting tossed just made it perfect. The only thing that worries me is poor Heap's hand. As Chipper said, don't be broke, Heap. Chipper also had a memorable quote about Kelly's great performance:
"I told you that sucker was gonna hit," third baseman Chipper Jones said of Johnson, whose .423 on-base percentage ranks near the top among major-league leadoff men. "He's got all the fundamentals and the mental side of it down."
That mental side bit seems right — Kelly always looks almost eerily calm. It's quite a contrast to old Gilly, and I appreciate it — keep up the good work, Scooter.