I was able to watch our game against the Yankees last night, again on their YES! network (is there an exclamation point after Yes? There should be). Cormier looked good, though Joe Girardi, who was calling the game with some obnoxious ass who had the nerve to compare Kelly Johnson to Chuck Knoblauch just because he looked "awkward" on a play he turned successfully, made a good point: the Yankees have never really seen Cormier, so he had that mysterious new pitcher advantage. Still, he looked confident and went after hitters. Idiotically, perhaps, I would love to think that his performance in spring training means something. Isn't our losing-Hampton-again karma good enough to earn us Cormier becoming a decent fourth starter? Hmm.
The Vulch swooped in and gave up a homer, and we lost 3-2. Before him, Yates gave up a walk but had two strikeouts. Chipper had a home run, Heap and Langerhans had hits. Girardi mentioned that this is the time of year when the spring games really start to drag for both players and fans. At first they're exciting (to nerds like myself, anyway) just because baseball has been gone for so long, and a week or so before the actual season they'll get exciting again, because decisions about the opening day roster will be finalized. But these middle of the month games are getting pretty dull, I must admit.
The YES! network tried to spice things up with an ad for "Hilarious YES! Ultimate Road Trip Hijinks," which I guess is like, A-Rod crying "Are we there yet?" from the back of the team bus, and Jeter threatening to pull over and really give him something to cry about?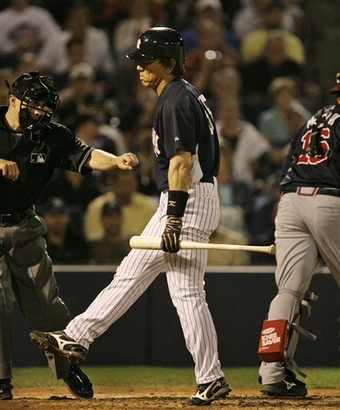 You know you're a Yankee when even your Japanese teammates whine on the field.
Here's an article about the new ballcaps that reads like an ad, but is pretty funny for its promise of better smelling, less sweaty ballplayers. I'll believe that about John Thomson when I see an oscillating fan mounted on top of his hat.