Not much going on with the Braves following the Smoltz divorce bombshell. From the AJC we get this extremely obvious list of things the Braves are hoping will go well in spring training. Go ahead and have a good laugh at the phrase "Ryan Langerhans hits with authority," I know I did.
Anyway, since I've got nothing else, here's a picture of LaRoche in a (red?!) Pirates jersey: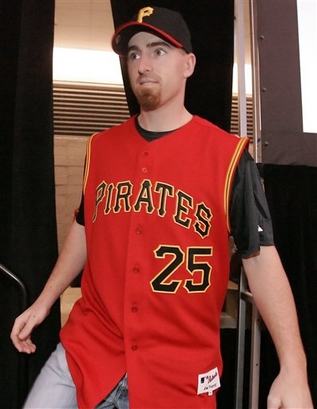 Good to see he's rocking that same "where the hell am I?" look on his face up in Pittsburgh.
Non-braves related, I'm also gonna go ahead and laugh out loud at Barry Zito out on a date with Hilary Duff. Everyone's making fun of Zito for robbing the cradle, but I say good game, Hilary! Huge upgrade over your last boyfriend, girl.
So, pitchers and catchers in five days. Thank God.