It's Heap's birthday today, and also the date of several major celestial events. Coincidence?!?!
I hope Heap gets to enjoy all of his favorite activities today, such as playing ping pong with his cardboard cut out of Frenchy: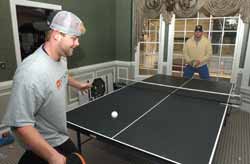 Turns out my everyday posting is likely not going to happen until April. I'm excited about going down to spring training, but I'm finding I don't have a lot I want to say in these final pre-preseason days. Maybe I'm just rendered speechless by the continued good (as in, not catastrophic) news about Hampton.