Now it's officially baseball season (I know I've said this about three times so far this year, but for real this time): Skip is back! He called our game against the Blue Jays today with Pete, and I was grinning like an idiot the entire time. Even if he'd done the whole thing pretty dry, starting out slow or something, I would have been thrilled just to hear his voice again, but as he said to Pete at one point, he was "already in midseason form," going on about Bark in the Park (very excited that we have two this year) and subtly ripping on the sponsors with glee. Just the phrase "Chipper's exploits" had me laughing for ten minutes. His best comment came pretty early, remarking on the atmosphere at our Disney stadium:
"The music and sound effects here are unrelenting — they just beat you to death."
When Bobby retires, it will be very strange, and I'll probably be upset and thrown off for awhile. But when Skip retires, I will be an absolute wreck. Skip is the only reason I survived our 2006 season (that and the ability to mute Torborg). I have so heavily associated my whole life as a Braves fan with his voice, I can't even imagine the team going on without him. For now, I'm just really happy that he's shown up to do the radio broadcasts with Pete. He was trying to have Pete explain the internet broadcasts to him, and that was comedy gold in itself.
Our pitching was excellent today. Well, the new guy hit two batters, but he only allowed one run. Soriano and McBride were solid, and Cormier was surprisingly good for four whole innings. He seems more consistent this year, but it's still early. I do have more hope for him than Davies at this point, but even he hasn't been terrible. So I'm feeling a little more hopeful despite Hampton's injury (Bobby is now saying "at least two months"), but I guess I should hold off getting too excited until after Davies' start tomorrow.
I'll leave you with a great AP picture from the game today: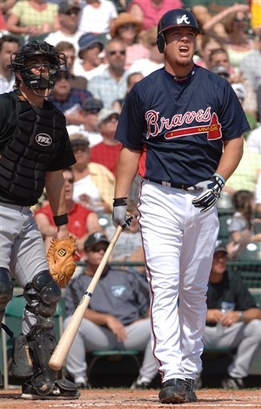 If there was a "Best Overall Use of Teeth in Expressing Emotion" award for ballclubs, the Braves would win it every year. Chipper, Diaz and Heap (who hit his first home run of the spring today!) are all experts at this. Keep up the good work, Chip!