The 2007 Braves have a lot of questions that won't be resolved until spring training, but as long as more than one essential component doesn't completely fall apart or fail to pan out, they're looking pretty good on paper. We finally have a bullpen, we're getting Hampton back and the roster is free from the clutches of the ingenious Pratt-Jordan platoon system that worked so well for us last year. In fact, improvements in 2007 may come from cutting dead weight just as much as filling in gaps. And yes, I'm talking about Reitsma, pretty much entirely.
Starting Lineup:
1. Kelly Johnson 2B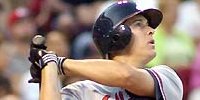 Nickname: I guess I'll have to go with the prevailing "KJ" until I come up with something better. I used to call him The Cockblock, but that is no longer applicable.
Outlook: He didn't play last year after having Tommy John surgery, so there's really no telling. I guess there is no reason not to at least be optimistic. He's patient at the plate, and as much as I loved Giles as in-game entertainment, I'm ready to try anything new (and cheap is good, too) in the leadoff spot.
Concerns: New to second base and leading off, and still relatively rookified in general, he's been handed a huge load of responsibility after a year of not playing at all. It'll be interesting. I'm not THAT optimistic.
2. Edgar Renteria SS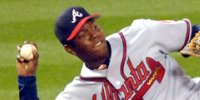 Nickname: Rent
Outlook: I'm a big fan and was very impressed with him last year. I'm expecting another great season from Rent.
Concerns: Some people have complained about his range at shortstop. I've never had any huge issues with his play in the field, but he had a few moments last year, so here's hoping that's not something that continues to subtly decline.
3. Chipper Jones 3B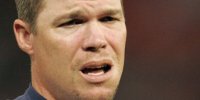 Nickname: Larry, which is also his real name, and an insult.
Outlook: He'll do fine if he's healthy. Before the end of the season he mentioned that he's giving up being overly cautious about his health and wants to go back to eating cheeseburgers and training more organically like he did when he was younger. Interesting plan, probably better than the magical magnet necklaces he tried last season.
Concerns: Foot problems, general malaise, mostly as a result of not aging very gracefully. Chipper was having a midlife crisis of some kind last season, and it was painful to watch. His play on third was bullshit at the beginning of the season; there were a couple of games where he looked like he was half asleep on painkillers over there. After the All-Star break he improved and seemed to wake up a bit, and of course he was great at the plate when his foot was halfway functional.
4. Andruw Jones CF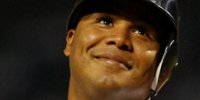 Nickname: Andruw "I Don't Know, Smiling is My Favorite!" Jones.
Outlook: Our last year with Andruw! No reason to believe it won't be like every other season we've had with him, nearly flawless defense and hitting that appears frustratingly inconsistent to the naked eye but actually ends the season with respectable numbers.
Concerns: He's almost definitely leaving us, so everything good will be bittersweet.
5. Brian McCann C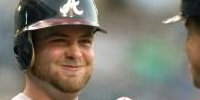 Nickname: Heap
Outlook: He's a gift from God.
Concerns: Unfortunately, he's also a catcher, which means injuries are always a concern. I wish they would move him to first, but he does work really well with our pitchers, especially Chuckie, who will really need him this year. I'm not holding my breath on that one, anyway, but if I have to go through another McCann-on-the-DL nervous breakdown, I may start ranting about moving him more sincerely. Another concern is a lot of pressure after his performance last year, but he seems like a pretty laid back guy, so hopefully he can take that in stride. I just hope the franchise doesn't pile on too much bullshit the way they did with his BFF and former roommate.
6. Jeff Francoeur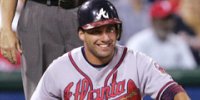 Nickname: Frenchy
Outlook: I'm very cautiously expecting him to improve at the plate this year. Very, very cautiously.
Concerns: This is the year when he has to either turn things around (at least to some extent) or end up the Darin Erstad of the Braves, beloved for his one great season (or great two months, however you want to look at it), everything he does afterward just tolerated based on that. I have no problem with his fielding, last year briefly thought he was dead when I was sitting in right field and saw him disappear into the seats along the first base line after catching a foul, something I would actually rather prefer he didn't do. This will be his first season living with wifey instead of his friends, so maybe that will calm him down at the plate?
7. Scott Thorman 1B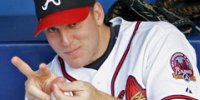 Nickname: Thor
Outlook: I have a feeling Thor will bust loose this year. I was surprised to hear that he has the job of starting at first to lose prior to spring training, but I'm glad to see him have the chance. His power will be especially valuable when we lose Andruw next season.
Concerns: Spotty at the plate last year, but historically he's been slow to adjust when he moves up a tier in the system, so it's not that much of a concern. Who knows how he'll play on first, but he didn't look too terrified over there last year.
8. Matt Diaz LF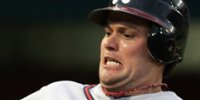 Nickname: Matty
Outlook: Yeah, I know this is a platoon, but I'm in fucking denial. Langerhans is a thousand times better in the field, but I can't watch him at the plate without frightening my neighbors. Not for another entire season, please, dear God. And Matty isn't ALWAYS horrible in the field . . .
Concerns: For Diaz, fielding, for Langerhans, hitting. If only they had a secret lovechild.
Bonus picture of Langerhans "congratulating"/scaring the hell out of Betemit last year: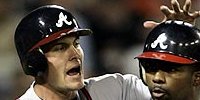 In addition to not hitting, I also think Langerhans is not entirely human, but that's a subject for another time.
Bench:
Craig Wilson 1B, LF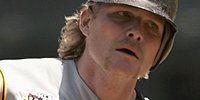 Nickname: I have no clue what Bobby will shout from the dugout. What do you do with "Craig"? Maybe he'll call him Willy, but that'll confuse Aybar.
Outlook: He's supposed to be good. Let's hope so. I like what I've heard. I'm hoping to mostly see him taking turns at first base with Thor, but I'd also be happy to see him replace the Langerhans half of left field, though that's unlikely given Bobby's love of lefty-righty platoons. Spring training will be interesting, with the three of them fighting it out, though knowing Bobby's noncommittal approach to the bench I'm sure they'll all end up hanging around with very vague ideas about their roles.
Concerns: Eric Byrnes hair is never a good sign. Fuck!
Willy Aybar CBF (Chipper's Backup Foot)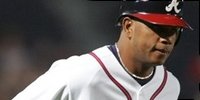 Nickname: Willy?
Outlook: I kind of wish he was starting on second, as I really love him at the plate, especially leading off. But I guess we're giving KJ a chance over there so we can save Willy for Chipper's trips to the DL.
Concerns: Wasted on the bench like Betemit was?
Brayan Pena C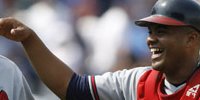 Nickname: None that I know of.
Outlook: Finally liberated now that Pratt is gone, I have confidence in him as Heap's backup at the plate, and his defense can't be that much worse than Pratt's was.
Concerns: He's not Pratt: I can't see any downside at this point. I actually really liked Pratt, he was a cool guy, probably taught Heap a thing or two, but had about as much right to be on a major league roster as Brian Jordan did. Pena may become Hampton's personal catcher. STAY TUNED!
Chris Woodward 2B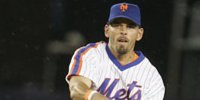 Nickname: Woody, I imagine
Outlook: I've heard he's pretty mediocre. Also, he was a Met. I suppose we picked him up in utter desperation, in case Johnson curls into the fetal position on second.
Concerns: Spy for the Mets?
Martin Prado 2B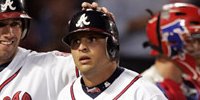 Nickname: Bobby will probably go with "Marty"
Outlook: May or may not make the roster after spring training.
Concerns: Looked okay last year. In the best case scenario KJ will be fine on second this year, Prado will develop in the minors and will be KJ's backup when we get rid of Woodward.
Pete Orr 2B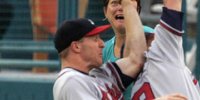 Nickname: No
Outlook: No
Concerns: No. Will not make the roster, I would think. Sorry Pete, good luck elsewhere.
Starting Pitching:
John Smoltz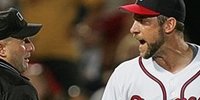 Nickname: Smoltzy
Outlook: Will be bitchy and excellent as ever.
Concerns: He was a regular prima donna last year, with his constant demands for new baseballs and calling the general manager "homeboy upstairs." I loved it; I mean, it's his right. Keep up the good work in both areas, Smoltzy.
Mike Hampton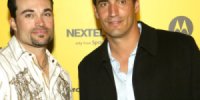 Nickname: Hamp? Hammy?
Outlook: God only freakin knows.
Concerns: Spent last year on the DL, most of his time devoted to hanging out with Nascar drivers and wearing shirts like the one pictured. He's got a skeevy look about him, like he grooms himself the way a cat would? Like, he looks licked, am I right? I've heard things about him that suggest he may have alienated a number of his teammates, including his catcher. Should be interesting.
Tim Hudson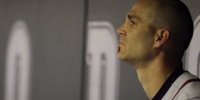 Nickname: Huddy
Outlook: I'm not expecting a lot after last year. He painstakingly nibbles at hitters in a way that makes me want to physically attack him. I'm not a fan. But of course I'm rooting for him to turn things around, cause we're saddled with him either way.
Concerns: Was one of the major reasons we had a losing record last year. Raised by those bastard Oakland A's.
Chuck James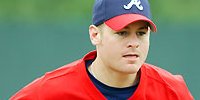 Nickname: Chuckie
Outlook: Another gift from God, he was excellent last year and hopefully he'll continue to improve.
Concerns: Fly ball pitcher, gives up his share of home runs.
Kyle Davies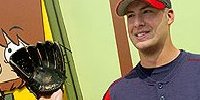 Nickname: Who cares
Outlook: Not great
Concerns: Sucked last year. Here's hoping for a miraculous turnaround in spring training.
Relief Pitching:
Bob Wickman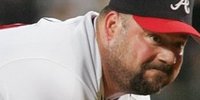 Nickname: Wicky
Outlook: I don't expect him to have an ERA under two like he did for us last year, but I think he's fooling NL hitters for the time being, and I hope he can keep it up and for God's sake stay healthy.
Concerns: High expectations, the curse of Mark Wohlers.
Rafael Soriano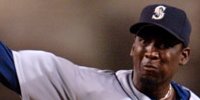 Nickname: Gotta be Raffy.
Outlook: Supposed to be good, we stole him from the Mariners in exchange for HoRam, which was a great trade on our end.
Concerns: Like HoRam, was hit in the head with a line drive last season, and was shaky on the mound afterward. Hopefully he's recovered from his post-traumatic whatever.
Mike Gonzalez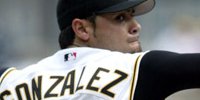 Nickname: Gonzo?
Outlook: Good left handed pitching out of the bullpen? Don't let the door hit you on the way out, LaRoche.
Concerns: He's . . . from Texas?
Macay McBride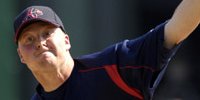 Nickname: Fatty, I've heard
Outlook: Last year he seemed to lose his confidence after he'd gotten two outs, then would completely fall apart. Other than that, I like him.
Concerns: Hopefully he'll feel a little more comfortable out there under pressure this year; he won't be our only lefty anymore, so maybe that'll help.
Oscar Villarreal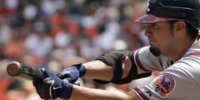 Nickname: The Vulture, I call him Vulch.
Outlook: Was great for long relief last year, I'm hoping he'll be a little more consistent this year.
Concerns: He wasn't often really bad, but when he was, he was REALLY really bad.
Tyler Yates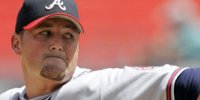 Nickname: Yates-y
Outlook: Fastballer, the franchise loves him for some reason. He's all over the place performance-wise, so I don't feel incredibly confident.
Concerns: Gets a little wild if the pressure's on, seems like a bit of a hothead. Farnsworthesque, without the winning personality.
Joey Devine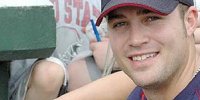 Nickname: He's far too fragile for a nickname.
Outlook: The traditional Braves bullpen position of hot guy with emotional issues will likely be filled by Devine at some point this season. After what happened in 2005, when I looked up from my beer in September 2006 and saw him on the mound I laughed for about twenty minutes. But then he did well, and now the ERA is down just under ten! I'm rooting for him. I mean, look at him.
Concerns: Comes from the long tradition of tragic bullpen antiheroes that turned out Chris Reitsma last year. But I think we've learned not to make our doomed pretty boys the principal closers, eh?