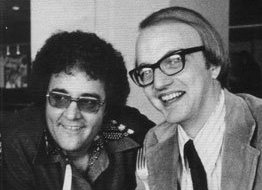 Much has been made about Skip and Pete not announcing the televised games for Sports South this season, and while I agree that it's disturbing that the network that will show most of our games from now on doesn't want anything to do with our best announcers, I personally don't see this as a huge problem. Introduce yourself to such concepts as the "mute button" and the "radio" and the problem is solved. It's how I got through the entire 2006 season under the Torborg-Rathbun reign of terror. I don't see how people can be anything but thankful after Braves fans stood up and collectively said "No" to those two, and since the management refused to sit back and listen to Don Sutton call the Nationals the Marlins and just chug ahead with whatever point he's making about whichever team he actually thinks we're playing, probably the Expos. I will not miss Don's slurring and calling players by the wrong name ("Mark Diaz" comes to mind), and let's just never mention the names of those other two jokers again.
Skip and Pete on the radio is all I need, and I'm especially grateful for it as they get older and closer to retirement. They'll also do a few TBS games, and some combination of Joe, Chip and Jon Sciambi, who worked for the Marlins last year, will handle the rest. I'm fond of Joe and Chip, and the new guy is young and not a former ballplayer, so this all sounds pretty ideal to me.
A few quick things from AJC this morning:
An article about my kickass hometown and how we turn out the best ballplayers in the country. Hell yeah! I first came to really love baseball when my brother played for the East Cobb All-Stars, most of my favorite current Braves played in or around Cobb when they were kids, and I really love that blowhard trainer's attitude toward pitchers in this article.
Finally, an article about the pitchers working out at Turner this week. Something about McDowell's posture as he watches Huddy work makes me a little nervous, but never mind. We'll be in Atlanta on Tuesday and it will be really hard to stay away from the field when I know they're working out there, but it's not like the gates will be open. I could of course stand outside the parking lot in the freezing cold for a few hours on the off chance that one of them will be milling around his car, but I'm not quite that desperate to see signs of baseball life.
The best part about this pitching article is of course the quote from Heap:
"We've got one of the best bullpens in the league now," catcher Brian McCann said. "You get the starters to go six innings and bring those three big horsemen in and they can shut 'em down."
Those three big horsemen?! Heap, how did I survive the winter without your quotes?