It's too bad that Redman's first quality start as a Brave was wasted on a night when we were completely shut down by a dominant opposing pitcher. I should probably disclose that, last night, I, um. Kind of fell in love with Rich Hill.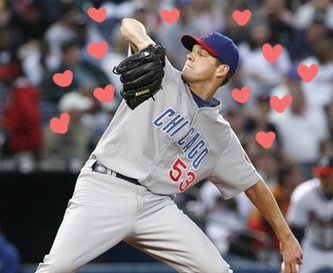 I'm sure I wouldn't look twice if I just passed him on the street, but when he was pitching, dude had me in a two hour swoon. This is an issue that occasionally arises for the straight female baseball fan. As adorable and impressive as my Braves are, they have a sort of brotherly familiarity that prevents them from having the same effect on me. Frenchy is probably the best looking guy in baseball, but I've seen him happily picking his nose in the dugout too often to have a proper crush on him. Opposing team's players have a certain mystery that makes them more exciting. I haven't spent large chunks of my life yelling at the television while they continue to stubbornly swing at the high ones. Hill's quotes were pretty great, too:
"I was a fan of the Braves growing up because they were always on TBS and I watched them in the World Series," said Hill, who lowered his ERA at Turner Field to 0.66 (one earned run in 13 2/3 innings). "The fans are great, it's a great city, a great organization. To come in here, it's a lot of fun."
Oh, Richie, you say the nicest things! I also appreciated Kelly's "all game long, strike after strike is all it was," and the title of this AJC article.
On a much more serious note, I think it has been decided: Kelly's new nickname is Scooter.
Now onward to New York, in a near tie with the Mets. This should be a great series, and I'm pretty excited about it. The game tonight is a TBS Xtra broadcast, or a "Super Duper" broadcast, as Skip called it last night. Apparently Julio Franco will be miked, so whatever happens, at least we'll have that.