In one of his quotes, Frenchy brings up the incident that I always think of whenever things start to look impossible:
"For us, I know mathematically it's getting tough to make the playoffs, but you're never out of it," right fielder Jeff Francoeur said. "The A's won 20 games in a row a couple years ago (2002), and we've seen teams go on big winning streaks and teams falter late in the year."
As long as this is still a true historical fact, hope is not lost! I guess! I mean, this was not my mood at all this weekend, but hey, that game on Wednesday? Maybe it was a sign! We do have one of those 20-game in a row A's on our team! You never know!
What I'm trying to say is: here's a picture of Rent and his goldfish for good luck.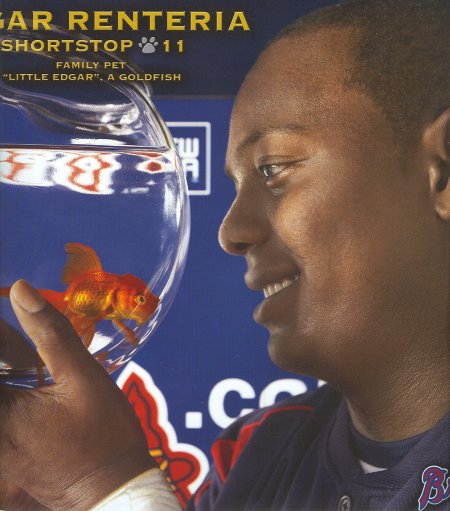 Sorry for the sliced-off text, but my scanner isn't big enough to capture this photo in its full glory. Thanks to the Braves Pet Calendar for the image. I got such a kick out of Little Edgar that, shortly after buying the calendar at CNN Center, I went to a Thrashers game, had a few $10 daiquiris and texted "merry xmas little edgar!!!" to the scoreboard. It's one of the few things I've ever texted there that actually made it past the censors.
The Cardinals may have the incredibly awesome Rally Squirrel, but we've got Little Edgar.