I'm going on a little mini-vacation starting tomorrow and won't be back online until Labor Day evening at the earliest. We're actually going to be downtown all weekend, and we're going to the Mets games on Friday and Saturday, but we're staying in a hotel that charges like twenty bucks a day for internet access, and I don't really feel like crawling around the Peachtree Center food court with my laptop at any point this weekend, so screw it, I need a break from the many hours I spent online every day anyway.
But before I go?
Things I'm Mad About!
1. Smoltz barking at Heap last night, on the field, in the most bitchtastic manner possible, after a botched play on first that Heap had nothing to do with. You kidding me? If you're going to be That Guy when we're losing, Smoltz, please direct your anger at someone with an ego at least somewhat proportional to yours, so at the very least we can have another media blowout to entertain us as the season draws to an underwhelming close. When Heap threw that ball into centerfield shortly afterward, I had to cringe and hide my face. That's what happens when you pick on him, Smoltz! Everything Heap does wrong can be traced directly back to other people's faults, but readers of this blog of course know that by now.
2. Normally I wouldn't bother, but this here blog features an exclusive "fuck it, I'm going after the owners" quote from Andruw today, so I read it. I got as far as "sartorial tastes" before I regretted eating breakfast beforehand.
3. Finally, you know what has really been making me mad lately? Frenchy. I've felt irrationally angry whenever I've seen him for the past few weeks. I keep telling myself to lay off a little bit, because he's improved a lot this season — or at least it looked that way for awhile. Recently, it's like he just dumped everything and went back to vintage April 2006 Frenchy, because that's exactly what this team needs right now. His flailing, bent-at-the-waist strikeouts last night were just unbelievable, and the fact that he got himself thrown out really pissed me off. He's been sniping at umpires constantly for the past week or so, cause it's got to be SOMEBODY ELSE'S FAULT, right, Frenchy? Sometimes tirades are well deserved, such as Teixeira's a week or so ago, when the game ended on a strike call though the pitch was a foot off the plate. But when Frenchy is swinging at stuff that is three feet off the plate without a moment's hesitation, does he really expect a lot of leeway from umpires? Oh, and I'm so sick of the elbow knock. I blame Frenchy for it entirely.
I also blame him for this: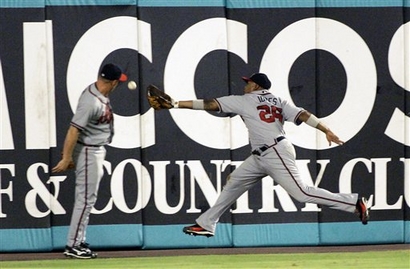 I don't blame hapless Orr for trying to get out of the way, or Andruw for trying to overcompensate, but still. Next to "Pete Orr" in the baseball encyclopedia? This picture, yes?