I'm so frustrated over that game last night, I'm sitting here having to tell myself to calm down. I was already in an overemotional baseball place after coming across a documentary about Cubs fans during lunch yesterday, which somehow had me in near tears for an hour. And now this happens, with no baseball tonight to erase it.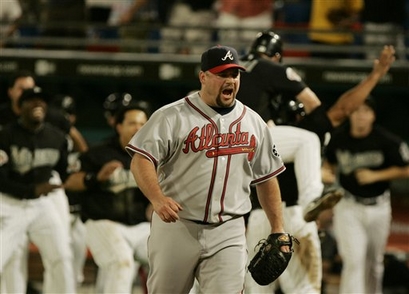 First of all, why in the fucking hell was Wilson taking up space in the lineup last night? Bobby's really that much of a slave to lefty-righty, when Thor finally gets going and has some momentum, he sits him just in case Wilson has the slightest chance of doing anything, ever? Which he does not? Have? At all? And why did Matty come out of the game when he finally started hitting, including a homer? Why is Langerhans anywhere near the batter's box, even when it looks like we have the game in the bag? I know these two things might not have made a difference, but we had a better chance with Thor and Matty than with Guaranteed Outs Number One and Two, and I'm just so tired of lefty-righty every night, I'm going to start blaming it for everything, even losses like this.
Not really, but God, that game was infuriating. Scooter homered in his first at-bat, which had me laughing out loud with delight — that is so Scooter, it's like his signature move — then Chipper, and Huddy was amazing, and Cabrera was limping around uselessly, and if Huddy couldn't do the complete game, we had three guys who could save it, no problem. Even when Bobby left Huddy in to finish it, no alarm bells really went off for me — he looked fine in the eighth. He should have come out after giving up back to back hits, but what the hell are you gonna do. That one just really hurt.
To make us all feel better, here's the picture of Smoltz with little Heap (and his brother, on the far left), with thanks to Dave for sending it to me: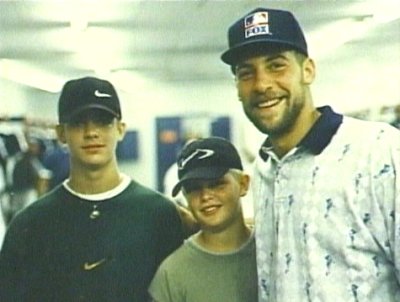 Alright, even that didn't really cheer me up. We'd better sweep the mother 'effin Rockies this weekend. And if I even catch sight of Wilson or Langerhans during any of the games (and, let's face it, I definitely will: ending rallies, hitting into double plays — they'll be around, doing their thing, no matter what), well, I'll . . . rant at my TV. Sigh.