Chipper's beard was a hot topic of conversation among the ESPN announcers today, during the first televised Braves spring training game (also the first game ESPN has televised this season). Apparently, the beard is Chipper's way of "rebelling against his wife," who hates it. Chipper was interviewed by the dudes after he was taken out of the game, and they asked him if he was more afraid of drawing the wrath of Bobby (who presumably has issues with the beard himself) or his wife. Chipper of course answered that he was more afraid of his wife, and after he left Kruk said, "Bobby can bench him, but his wife can really bench him."
Jokes about players' wives withholding sex? Now it's officially spring! Hooray!
The game today was the first one I've seen since my husband and I got a huge new television and HD cable as a Christmas present to ourselves, so it was a religious experience for me. I did find myself getting distracted by the detail that I can now see in the crowd: I was mesmerized by a kid eating an ice cream bar at one point.
Notes from the game:
–LaRoche forgot his jersey. LaRoche. Forgot? His JERSEY. He wore an impromptu number 96. At this point I'm just really impressed that his wife was able to see that their children survived past infancy. It must have been a challenge, just making sure he didn't burn the house down every time he tried to make toast. I thought nothing could beat going to play golf with Tiger Woods and forgetting your clubs, but LaRoche certainly has a way of topping himself.
–Smoltz looked excellent; his breaking stuff was just embarrassingly good. He tried to throw a knuckleball to Rochy. They uh, had a laugh about it. He needed only 12 pitches in his first inning.
–Diaz got a hit, and tried to overcompensate for his reputation in left by tumbling into a concrete wall in an attempt to catch a foul that was well into the bullpen: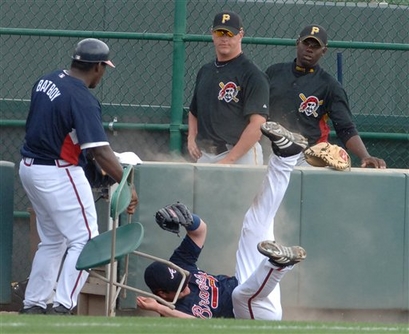 Thankfully he was okay. Someone please tell him that he's on the goddamn roster before he kills himself. I swear most of his problem in left is nerves.
–Heap grounded out twice and missed a chance to throw out a runner, but he did make important tag at the plate after a great assist from Andruw: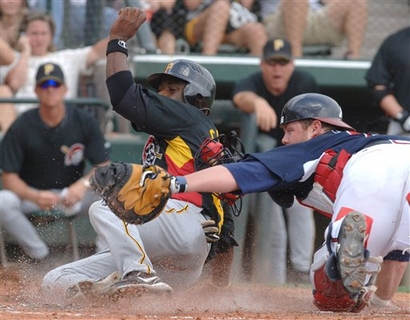 Now if nobody could get near Heap again until April 1st, that would be great. Collisions at the plate are so not happening in spring training games, ya hear me?
–Frenchy homered, and even looked at the first two pitches in his first at bat! They were both balls, but the ump called the third pitch he looked at a strike, so Frenchy swung wildly at the next one. But anyway, he homered. He looked a little asleep out there in right, but it was a half-game golf day, so I guess I won't be too bothered.
–Chipper and Andruw both looked like goofballs at the plate. Chipper especially looked like he wasn't having any of this practice shit. It's to be expected, I suppose. Andruw was certainly awake in the field.
–Gonzalez gave up a two run homer and Wicky's inning ran a little long, but I'm not really worried about either of them.
–McBride, on the other hand, looked a little weak. Moylan was surprisingly good. The Vulch gave up a home run.
–Apparently Chipper flew to Japan during the offseason to have his new cleats fitted. The idea of Chipper in Japan will never stop being funny. I'm sure he went right to KFC like Andruw did while he was there.
–I don't care for Andruw's new spiderweb tattoo.
Peter Gammons is in love with the Braves, by the way. I've heard or read about a thousand positive things from him since spring training started, and hopefully the rest of the mainstream media will follow his respected lead. They sure hated our asses last year, seemed like.
Miscellaneous:
— Orr almost killed KJ this morning. Orr just needs to go home before someone loses an eye, I swear.
–Dave O'Brien mentions the cover of the new media guide in his blog today. It features — what else? — Heap and Frenchy. Dave calls it the "dawn of a new era" for the Braves, and this is certainly true of their marketing department, if nothing else. I think it's brilliant, and it may seem like Heap and Frenchy were just handed to them, but this has happened before in major league baseball, and while those childhood friends weren't touted as equally as Heap and Frenchy (whatever happened to Munson, anyway?), I think the shameless flaunting of their history is a great approach here. Get them on the cover of everything and keep them there as long as you can.