For Braves fans, the year has officially begun. Sure, they've been practicing at Turner since the beginning of the month, and yes, they had photos and quotes taken from camp yesterday, but today is the day that spring training was slated to officially begin according to the team calendar! And that counts for something!
These are also from the AJC; I still haven't seen any from the official site.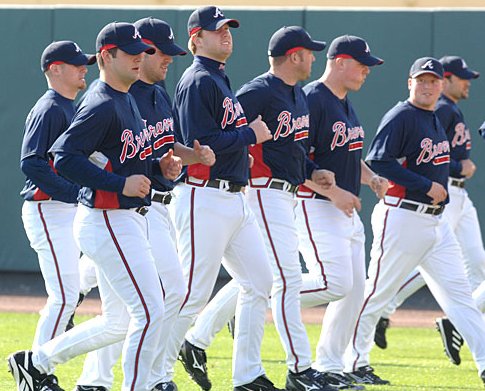 I was really hoping for a running picture. We so rarely get to see them jogging around in clumps like they're in gym class. The look on McBride's face! The smallness of Hampton compared to the others! (Not to mention the fact that's he's looking a bit ostracized over there, eh?!) I love how Chuckie is pulling up the rear, all "fuck this shit."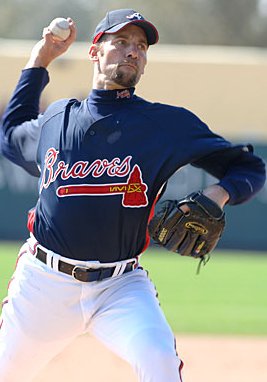 Smoltz looking quite majestic.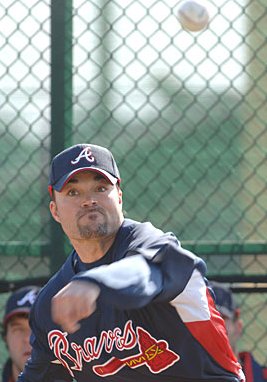 Hampton looking . . . less majestic.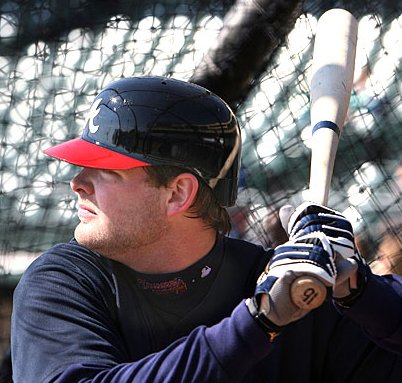 I have so missed the comforting sight of Heap batting!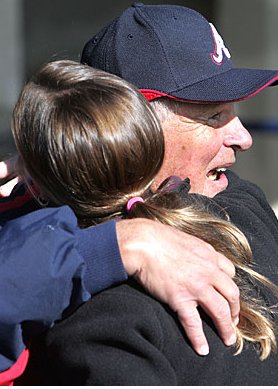 Bobby hugs a fan, looks a little nervous about it.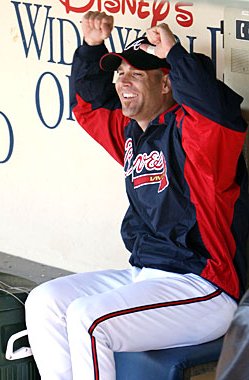 Just when I was starting to feel optimistic about Hudson, I see this picture . . .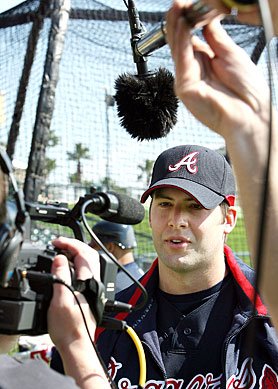 Apparently Davies was shooting an anti-drug commercial here, so we can look forward to seeing that 10,000 times on Sports South this season. I doubt it will live up to HoRam's Texas Pete commercial where he stood beside the dancing bottle of hot sauce. Now that was a convincing anti-drug message.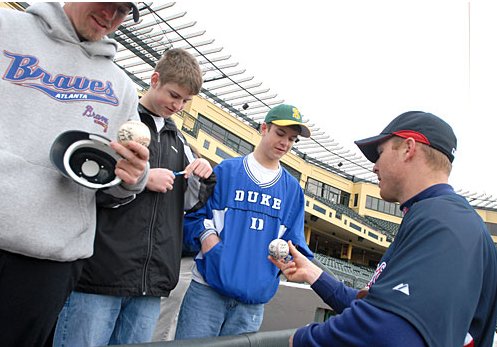 Guy on the left: Oh God, here he comes.
Orr: Afternoon, fellas! You'll be wanting autographs, I expect!
Guy on the left: (muttering) Just don't look at him, maybe he'll forget we're here.
Guy in the middle: If I stare mournfully at my pen he'll probably get the message.
Guy on the right: How humiliating . . . I'll just leave my hands in my pockets.
Orr: Maybe I should bribe them with this ball signed by the other guys . . .

There are also a few new articles out today. I'm morbidly fond of this Dave O'Brien masterpiece–painstakingly composed on his Blackberry over lunch, I expect–which continues last year's tradition of comparing that smarty-pants Davies and his useless THOUGHTS! with Chuckie the mouth-breathing savant. It belittles both of them (though mostly Chuckie, but he's got a thick accent, so he must be dumb – don't forget to point that out eighteen times, Dave) and gets on my nerves, but it's also just kind of funny. Poor Davies.
We also get article #52930 about how great our bullpen is, because it's not like our bullpen has ever been jinxed before! I fear that somewhere Mark Wohlers is laughing maniacally.
The other big news from camp is that Soriano will be delayed because of visa problems. I hate to say it, but everything about this guy seems like a bad omen. Like the fact that he was knocked out last season by a line drive just like the guy we traded away for him? I hope to God I'm wrong, because if this bullpen doesn't end world hunger by the All-Star break I think we're all going to be sorely disappointed.