Can you take it, can you take the ten thousandth article about how great our bullpen is going to be in 2007? I can't. I mean, I'm as optimistic as anyone about the great acquisitions, and Wicky, and, hell, maybe even Joey Devine will work some miracle in spring training. I'm open to it! I'm just starting to get a bad feeling about all the great press and constant trumpeting. We should treat any good developments in the bullpen with quiet fragility, I think, after all we've been through. It's mostly just strange to go from Reitsma to near BEST IN THE LEAGUE! proclamations in less than a year.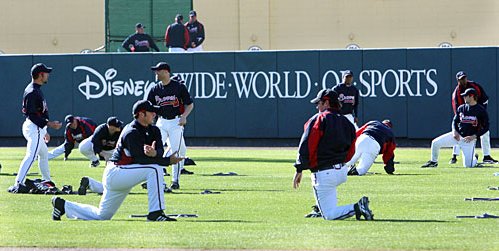 And we have our first group stretching picture!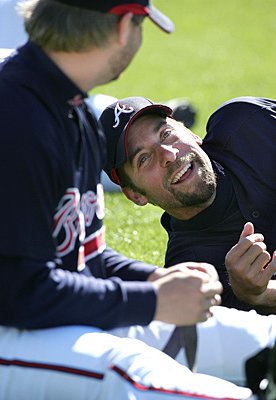 Heap chatting with Smoltz, who seems to be in good spirits.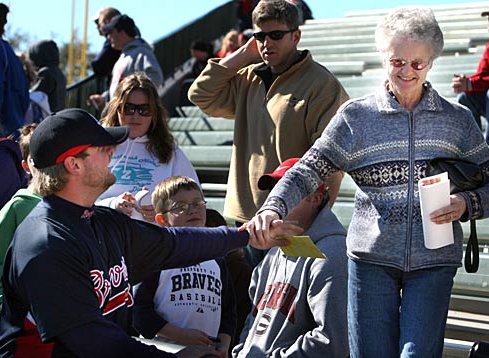 As if Heap could even get any more likable, here he is giving his grandmother a birthday card. Or at least, that's what I assume that yellow thing he's handing her is. The AJC says she came down to see him on her birthday, but Heap's birthday is tomorrow, so I'm thinking they might have gotten it backward. Either way: aww, Heap!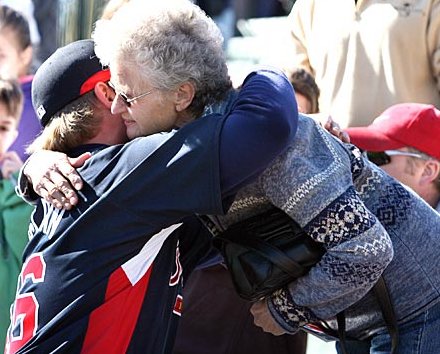 Heap hugging his grandma. The last sentence in these Braves Notes mentions that he spent time with some terminally ill children at Disney World on Monday morning, in addition to hugging his grandmother. The same notes also mention that he put on weight during the offseason, which is, well, obvious, but apparently it's muscle from a new lifting routine, so that's pretty exciting. I'd love to see his power numbers keep going up this season.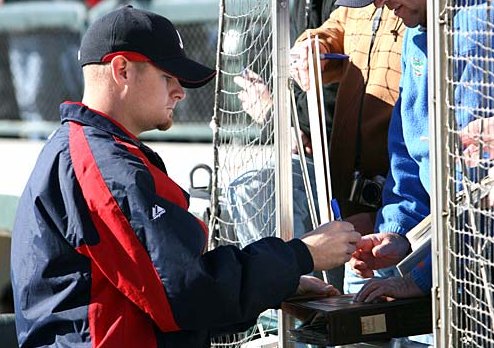 Chuckie keeps his badass face on even while signing.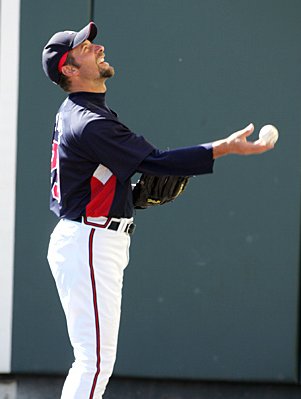 Another cheerful picture of Smoltzie, which is nice to see.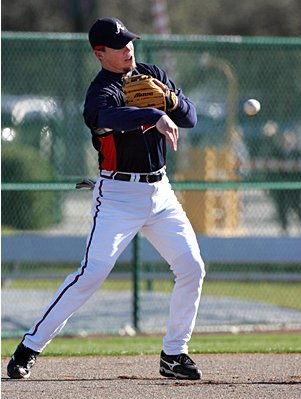 Chipper in action – watch that foot! He's still got the beard.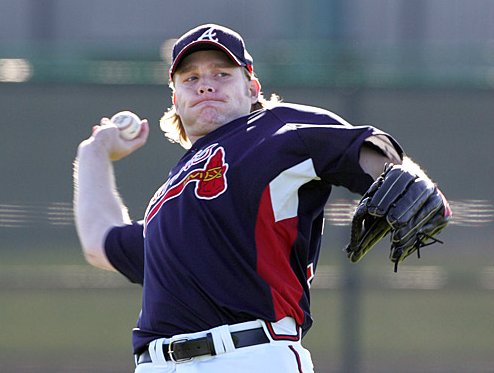 Wilson brings some exciting new blood to the team with the longest mullet featured so far in spring training, though Langerhans and Heap are giving him a run for his money.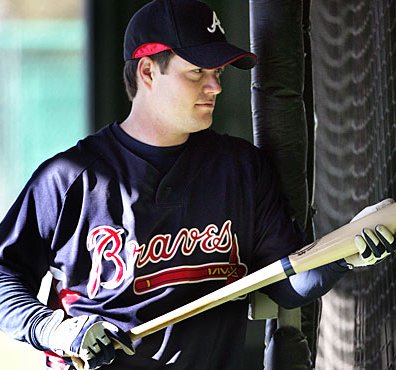 Diaz stalking around with a bat, looking like he's planning to kill someone, probably Langerhans. Do it!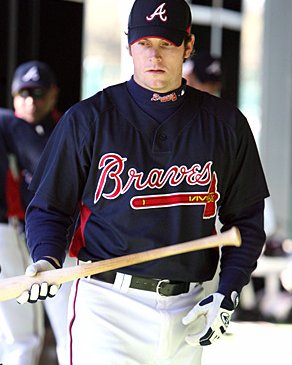 Langerhans wanders around camp with his usual cheerful disposition.
Speaking of repetitious articles from the official site (imagine that), here's another one about how Davies is planning on not "overthinking" this season. Cause talking constantly about how you're not going to think about something really works out, in most cases.
Around the League:
This article about that "Odd Couple" Maddux and Wells is so great I actually wrote on my hand at work to remind myself to post about it when I got home. I haven't written on my hand since sixth grade! It's that awesome. Behold:
One could be an accountant or Sunday school teacher, remarkably average in height and build, soft-spoken, introspective, right-handed.
They're talking about our Maddog, who I learned most of my major curses from when I was in elementary school. You couldn't hear him cursing wildly on the mound (most of the time) with every ball or less-than-perfect strike, but man you could see it.
There's also this:
Maddux is happy to slip off into the shadows, grinning slyly as if he has a secret he intends to keep to himself.
Oh, he does, innocent Padres beat writer. He does.
That Other League:
Yankee fans have their first crucial Jeter/A-Rod relationship status article.
A-Rod on Jeter:
"Do we go to dinner every night like we used to? No."
:*(