It's promotion schedule time! This year it's mostly the old standards — a night where you can win the game worn jerseys (tastefully abbreviated as JOOB on the schedule), t-shirt giveaways, bat nights, hat nights, and plenty of kids running the bases all summer long. They also offer a sneak preview of the Heap statue they'll be giving out on July 19: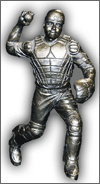 I guess it's silver because he got the Silver Slugger last year? Either way, the likeness is astounding.
More than any of these other giveaways and special events, everyone must make sure to mark their calendars for the September 9th game against the Nationals, when the Braves will have Bark in the Park (one of TWO Barks scheduled in the Park this season!), Pet Calendar Night (if you don't have the 06-07 calender that features Rent staring lovingly at his goldfish, "Little Edgar," you're really missing the hell out) AND Girl Scout Night. I know, you're thinking, Girl Scout Night? What's the big deal? Well, last year we happened to show up on one of the Girl Scout days, and they had five hundred little girls parading around the field with their mothers before the game, and who had to walk out into right field to practice throwing with the starting pitcher while all of this was going on? Why, Heap, of course! He looked like he was afraid he was hallucinating. Then a rogue mom broke away from the crowd and ran to him before the security people could stop her, got his autograph and ran back, dragging her poor daughter with her. It was fantastic.
I listened to most of the game against the Dodgers on MLB radio today. All good news: we won 7-2, Davies had a good mini-start. Brayan Pena and Thor both benefited from really hustling down to first, beating out tags that would have been made easily if they hadn't. Corky Miller, Escobar, Salty and Frenchy had some of the more memorable hits, and Paronto and Yates were fine to close it out. On the Dodgers side, Betemit was making errors all over the place, and LaRoche's ridiculously good looking younger brother played a little third base.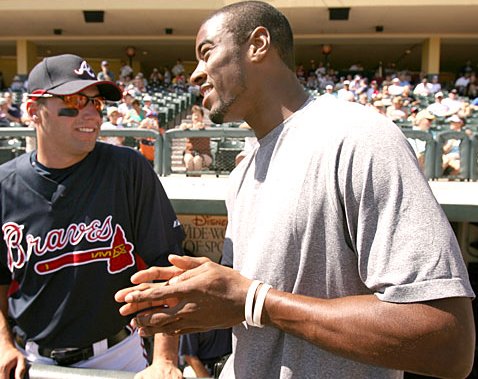 Calvin Johnson of Tech's football team showed up to the game yesterday. Frenchy of course rushed over to make a new friend.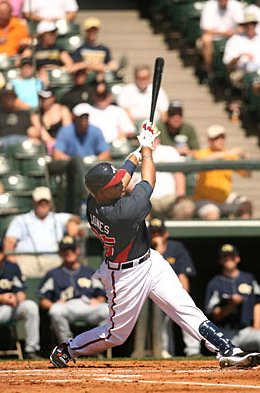 Maybe Andruw needed the extra weight to sustain his wacky swing? I'm afraid he's going to crack an ankle one of these days.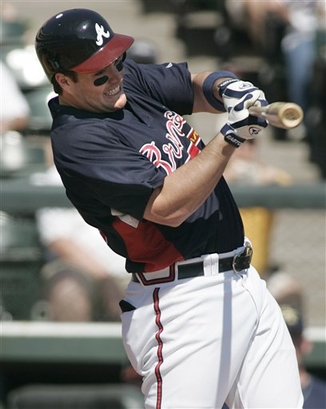 Matty decided to keep "the teeth" active in his own swing. I think they help.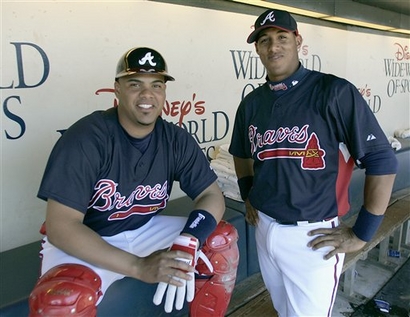 Apparently Pena and Escobar are the Cuban Heap and Frenchy. They grew up together playing ball in Cuba, according to the AJC.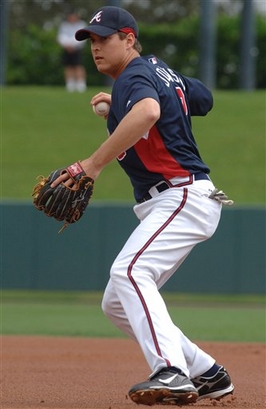 Kelly seemed more comfortable at second today, in the small amount of time that Bobby allowed him to play before cycling in Orr and Prado. He's got a smart approach at the plate; I'm actually getting pretty excited about trying him as our leadoff guy.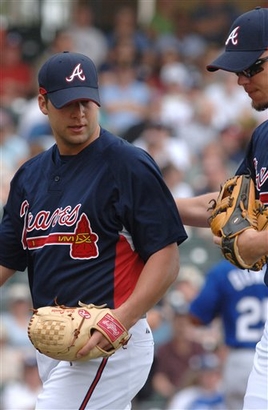 Chipper congratulates Davies on a job well done. Chipper played about one third of an inning before taking off for the golf course this afternoon.

Am I the only person who can't get enough awkward videos of Heap signing stuff for people? Probably, but do enjoy the above if you're so inclined. I particularly like the part where Heap picks up that guy's used tissue and inspects it curiously, and I love how the kid immediately sniffs the card after Heap signs it (for authenticity purposes?), then accuses him of signing it with glue.